Her på Blåvand's blog bringes korte nyheder i dagbogsformat om livet og hændelser på fuglestationen.

Se indlæg fra år: 2023 (187)2022 (265)2021 (276)2020 (279)2019 (247)2018 (211)2017 (276)2016 (118)0 (1)(se alle)
Se indlæg fra måned: jan. (1)feb. (2)mar. (29)apr. (30)maj (28)juni (8)juli (25)aug. (23)sept. (30)okt. (24)nov. (11)


Finkerne fortsætter
søndag 14. oktober 2018
Bedste småfugletræk i mands minde om efteråret
After two somewhat mediocre migration days, we finally had some nice migration volume today with mostly S and SE wind. On the shore over 60,000 migrants were counted with a nice variety of 76 species. Migration in the gardens was much weaker as we ringed even less birds than yesterday - 60 birds and 10 species - but we did ring some birds that we have not seen for a few days in the nets.
While many incoming birders from different places were looking for rarity in Blavand, Jimmy and Henrik were busy counting as Chaffinch and Brambling became the major migration force again with 44,450 birds counted; and next biggest group was 8,300 Common Starlings. Thrushes were doing great as 3,500 birds, mostly Song Thrush and
some Redwing, were passing through; with 33 Shore Larks and 25 Grey Wagtails rounding up the decent migration of passerine. On raptor front, 9 Red Kites, 3 Peregrine Falcons, 2 Long-legged Buzzards and 1 Osprey did provide some joyful moments on the shore. The delight of the day for the counters was a small Horned Grebe migrating among the bigger Great-crested Grebes.
On the nets the total ringed numbers were not many, but we had 14 Chaffinches and 10 Song Thrushes which were not seen in good numbers for a few days. The other birds ringed were Goldcrest, Chiffchaff, Blue Tit, Great Tit, Coal Tit and Wren.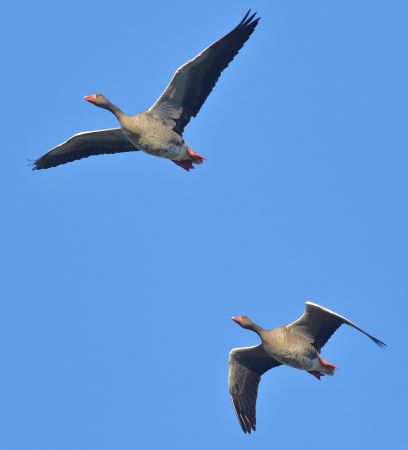 Foto: Jennifer Leung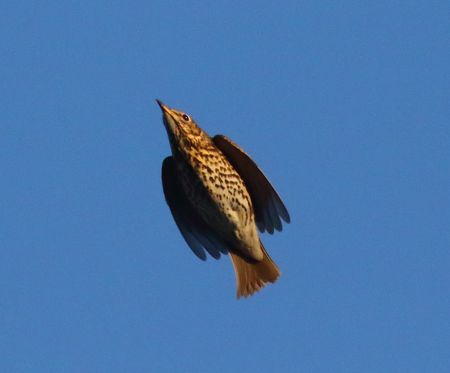 Foto: Jennifer Leung