Her på Blåvand's blog bringes korte nyheder i dagbogsformat om livet og hændelser på fuglestationen.

Se indlæg fra år: 2023 (187)2022 (265)2021 (276)2020 (279)2019 (247)2018 (211)2017 (276)2016 (118)0 (1)(se alle)


Rigtig god trækdag
onsdag 10. oktober 2018
og mange fugle i nettene
Today the weather was very nice for migration watch and ringing with not much wind in the early morning, but very humid for us. On the shore it began with mild S wind and then SE wind, and migration swinged in just when the first light came. In the garden and lighthouse we had a long ringing day as there was an incoming of Blue Tits around lunch time. We closed all nets at 1500.
The sky was clear and it was warm most of the morning. Migration began with big flocks of Meadow Pipits, which amounted to 2,346; then came Brambling and Chaffinch with total count of 1,684. Highlights of the day included influx of Blue Tits just before lunch time, altogether 1,416 was counted. So Jimmy was busy using two clickers at the same time to count flocks of incoming migrants and barely had time to catch a sip of coffee. The count of Blue Tits is the 5th highest single day record. But this highlight was easily paralleled by 7 Red Kites, which is the highest single day count. The raptor excitement did not stop with the kites, as Jimmy also saw 6 Hen Harriers with one cracking adult male as an eye candy for him. Not to mention that 61 Sparrowhawks were undoubtedly a delightful sight for him. Speaking of good numbers, Common Starling should be the champion of the day with 2,640 counted. One early Snow Bunting joined the eventful migration mix, and Barred Warbler was seen again at the same spot again. Around 9,000 migrants were counted today. Also a Parrot Crossbill migrate.
Blue Tits influx also attacked the nets as they were effortlessly the mostly ringed birds of the day - 126 were ringed among 171 birds we caught on nets. Incoming of tits always make ringers a little bit frenetic or frantic, depending on your personality, and the best (of tits) is yet to come. Leaf warbler variety was less than yesterday as we had only 3 Chiffchaff and one Firecrest on the net. Goldcrest is an obvious absentee. 12 species of birds were ringed today.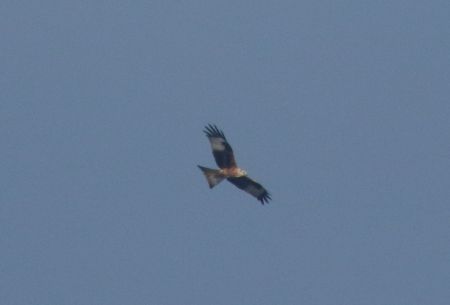 En af dagens 7 røde glenter. Foto: Jennifer Leung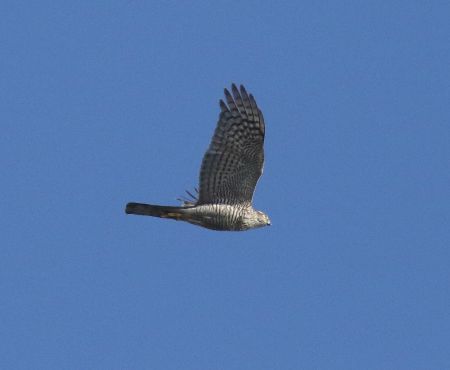 En af dagens 70 spurvehøge. Foto: Jennifer Leung