Her på Blåvand's blog bringes korte nyheder i dagbogsformat om livet og hændelser på fuglestationen.

Se indlæg fra år: 2022 (223)2021 (276)2020 (279)2019 (247)2018 (211)2017 (276)2016 (118)0 (1)(se alle)


Another foggy day
onsdag 16. marts 2022
With some nice surprises
Wednesday 16th of March
Today was another foggy day, but the vision was enough for a sea watch. By the limited vision Mikkel did not saw many migrating non-passerines. But he observed a serin flying towards the house, unfortunately Bent and me were ringing birds at the lighthouse so we were not able to pick it up.
The main highlight of the ringing today was a female bullfinch, because of the many birds that round (and a bit of bad timing, but a forgot in which bag it was) we took a quick picture in the ringing lab. Next to the bullfinch an old yellowhammer ringed at Blåvand was also nice!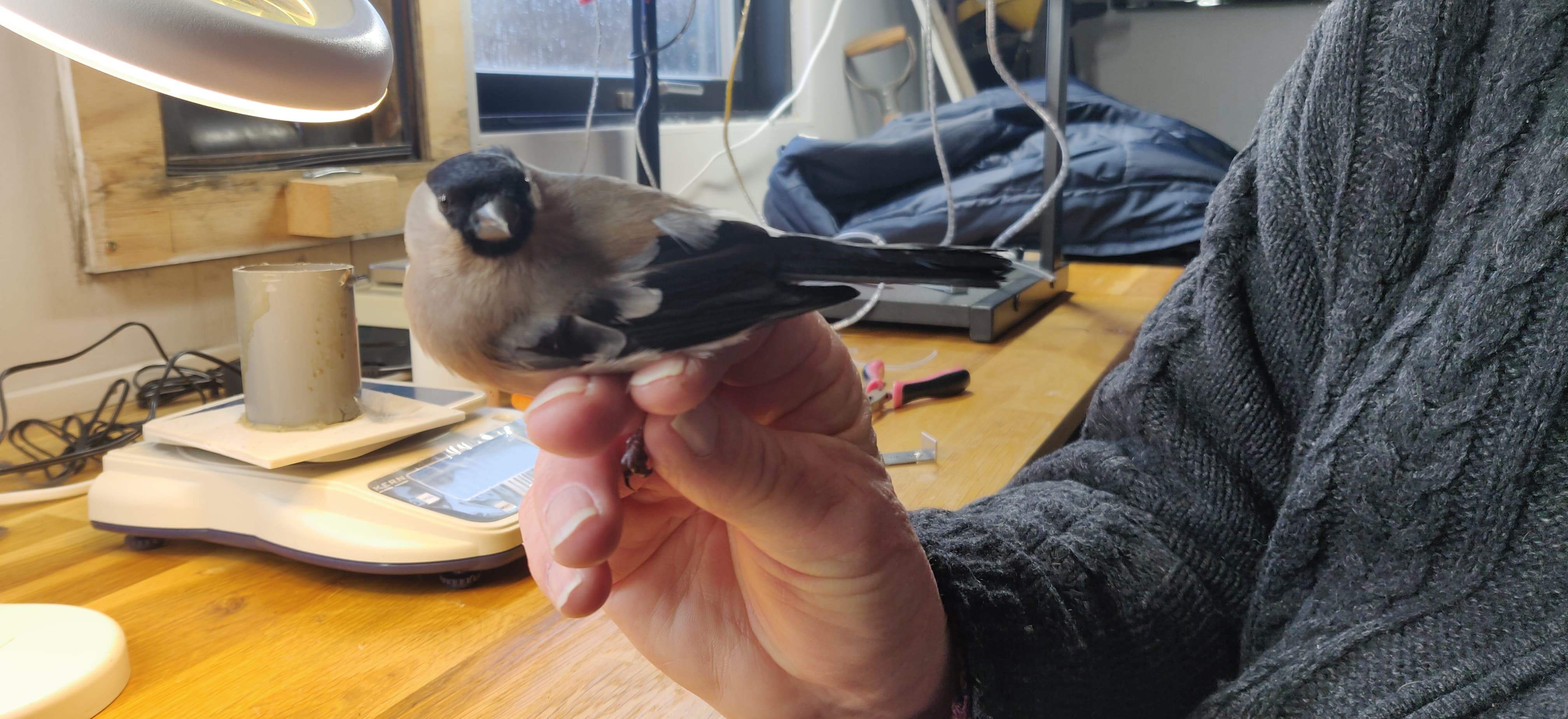 Photo of the female bullfinch - Photo by Menno
For tonight and tomorrow strong southern winds are predicted. Hopefully this will bring in some nice and good amount of birds migrating at sea.
Ringing list (new/recapture):
2/1 Blackbird
1/1 Wren
8/1 Dunnock
0/1 Yellowhammer
2/0 Robin
1/0 Goldcrest
3/0 Blue tit
1/0 Great tit
4/0 Common Chaffinch
6/0 Redpoll
1/0 Bullfinch
29 new birds over 10 species.
As promised, we would come back to the recaptured robin with a Dutch ring, the one we caught the 14th. It was ringed in the surroundings of Schagen, just north of Amsterdam. It's amazing such little birds can cover these distances.
DOF list:
https://dofbasen.dk/search/result.php?design=table&soeg=soeg&periode=dato&dato=16-03-2022&omraade=stor&stor=607&obstype=observationer&species=alle&sortering=dato
People at the station: Bent, Bello and Menno