Her på Blåvand's blog bringes korte nyheder i dagbogsformat om livet og hændelser på fuglestationen.

Se indlæg fra år: 2023 (198)2022 (265)2021 (276)2020 (279)2019 (247)2018 (211)2017 (276)2016 (118)0 (1)(se alle)


Birds, rain and DOF's fuglestationsudvalg
lørdag 30. oktober 2021
Lots of blackbirds, wrens and redwings in the nets in the morning, a parrot crossbill on observation, then lots of rain in the afternoon.
Good evening to all blog readers,
In the morning, the weather was quite good in Blåvand today, so that the standard times for ringing and observation could be met.
When we opened the nets, Kurt visited us. We had quite a few birds in the first round, so his help with writing was very welcome while Jonas was ringing and I was already starting the second net round. The most common birds in the nets today were Blackbirds, Wrens and Song Thrushes.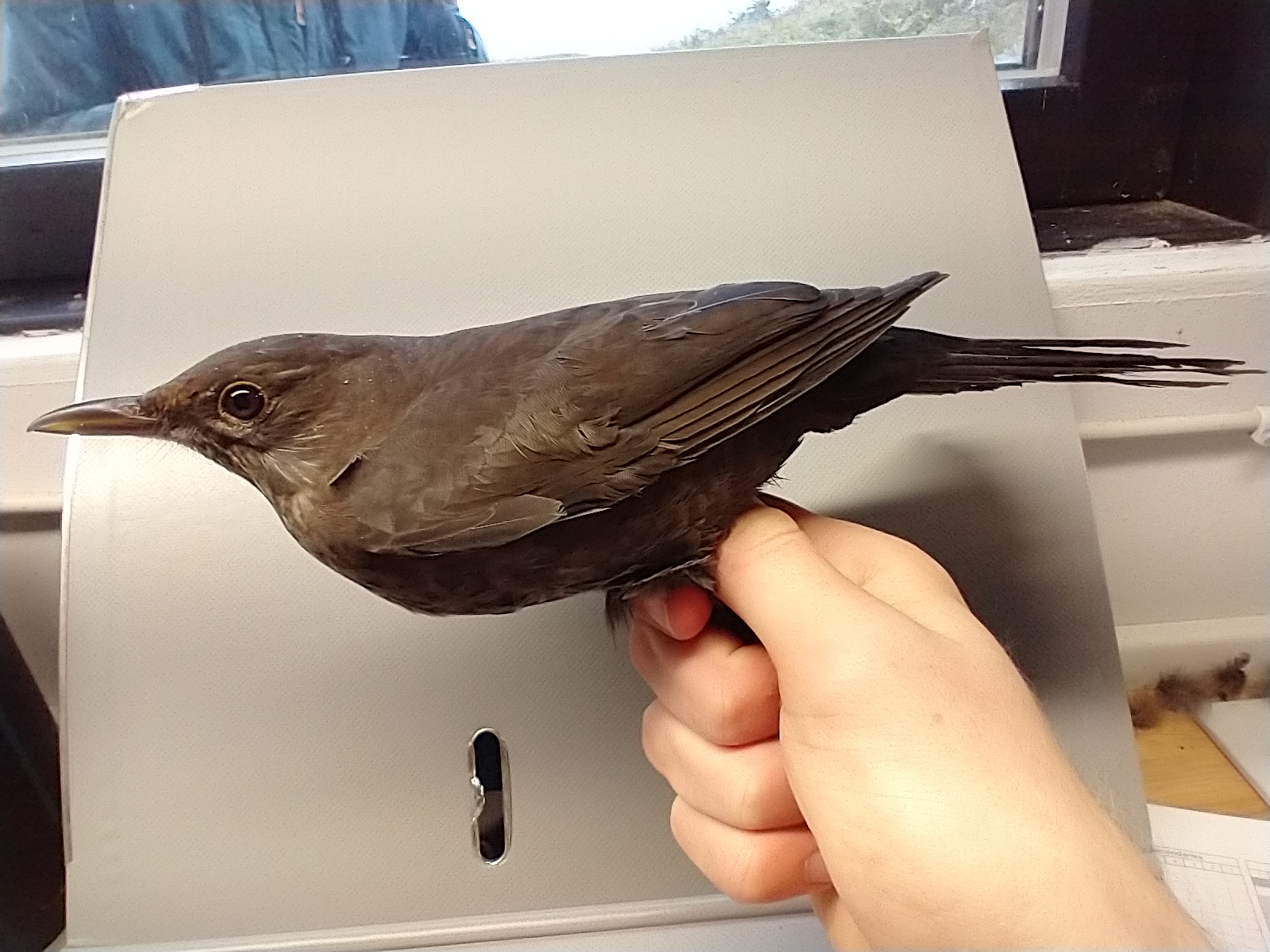 A female 2K+ Blackbird
But there were also three recapture Dunnocks, which we hadn't seen for a while. After the first round, the nets were no longer full of birds, only leaves.
Todays ringed birds:
Wren: 7
Dunnock: 3 recaptured
Robin: 4 (2 of them recaptured)
Blackbird 9 (3 of them recaptured)
Song Thrush: 1
Redwing: 6
Blackcap: 1
Goldcrest: 5
Total: 36 (8 of them recaptured)
For lunch today, Jonas and Sebastian had the usual nuggesta and pita bread for me. Sebastian reported a nice Parrot Crossbill during the observation.
We also had autumn weather all afternoon and evening. With lots of rain. This meant a very quiet afternoon at the bird station. BUt while Jonas, Sebastian and I could relax, work was going on next door. Because today the DOF's fuglestationsuvalg met in the seminar room next door. So today it is full house at the Blåvand bird station.
Now we are looking forward to a convivial dinner and of course, as always, we are excited about tomorrow. See you then!
People at the Bird station: Bent Jakobsen, Sebastian Thorup Hansen, Jonas Pedersen, Hanelie Sidhu, Kurt Willumsen and DOF´s fuglestationsudvalg