Her på Blåvand's blog bringes korte nyheder i dagbogsformat om livet og hændelser på fuglestationen.

Se indlæg fra år: 2023 (198)2022 (265)2021 (276)2020 (279)2019 (247)2018 (211)2017 (276)2016 (118)0 (1)(se alle)


At last we have fulfilled Bent's mission!
fredag 29. oktober 2021
The only bird in the net round was a great surprise.
Hello everyone,
As you, attentive blog reader, already got to know yeterday, there was quite a strong southerly wind again today. Blåvand brings surprises from time to time, you're right Sebastian. And they are all the nicer when the expectations are not too high.
But let's start from the beginning. As the wind was quite strong, we couldn't open all the nets today. Rasmus was there for the first rounds of ringing, because the first(s) are usually always the ones with the most birds. We had some blackbirds, redwings and Wrens in the nets. Afterwards, Rasmus grabbed his telescope to keep Sebastian company while observing.
Jonas and I stayed at the ringing gardens and also watched the beautiful bird migration. Many Finches were out, also some Larks and flocks of Jackdaws. Then it was back to the net rounds, but Rasmus had definitely witnessed the rounds with the most birds. Empty nets. A bird in a net at the lighthouse.
Later Bent, who was on his way to the lighthouse, said he had already seen from my smile and our behaviour that it was something special before hearing Jonas Zello call. And so he was already waiting anxiously in front of the laboratory to see what we were bringing him: A Pallas´s Leaf Warbler! The bird that Bent, Jonas and Sebastian had been talking about for weeks. We should catch one for Bent, please. So finally we were able to fulfil Bent's whish. While Jonas showed Bent the long-awaited bird, I checked the station garden for birds in the nets. When I came back, I also saw Rasmus and Sebastian from Observation rushing to the lighthouse garden with their telescopes. Back at the ringing lab, the bird was already ringed and ready to be photographed. Take a look at this handsome little fellow: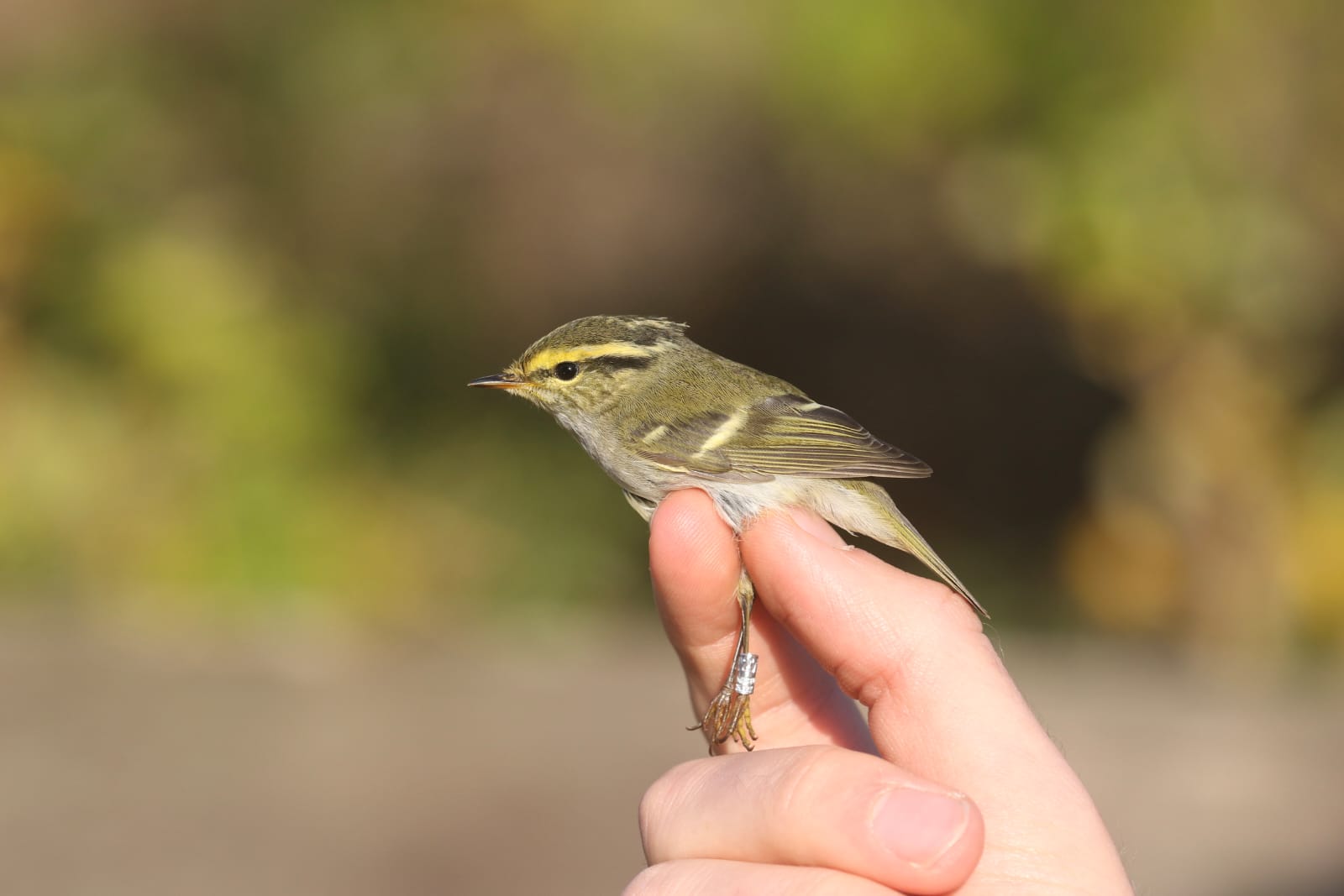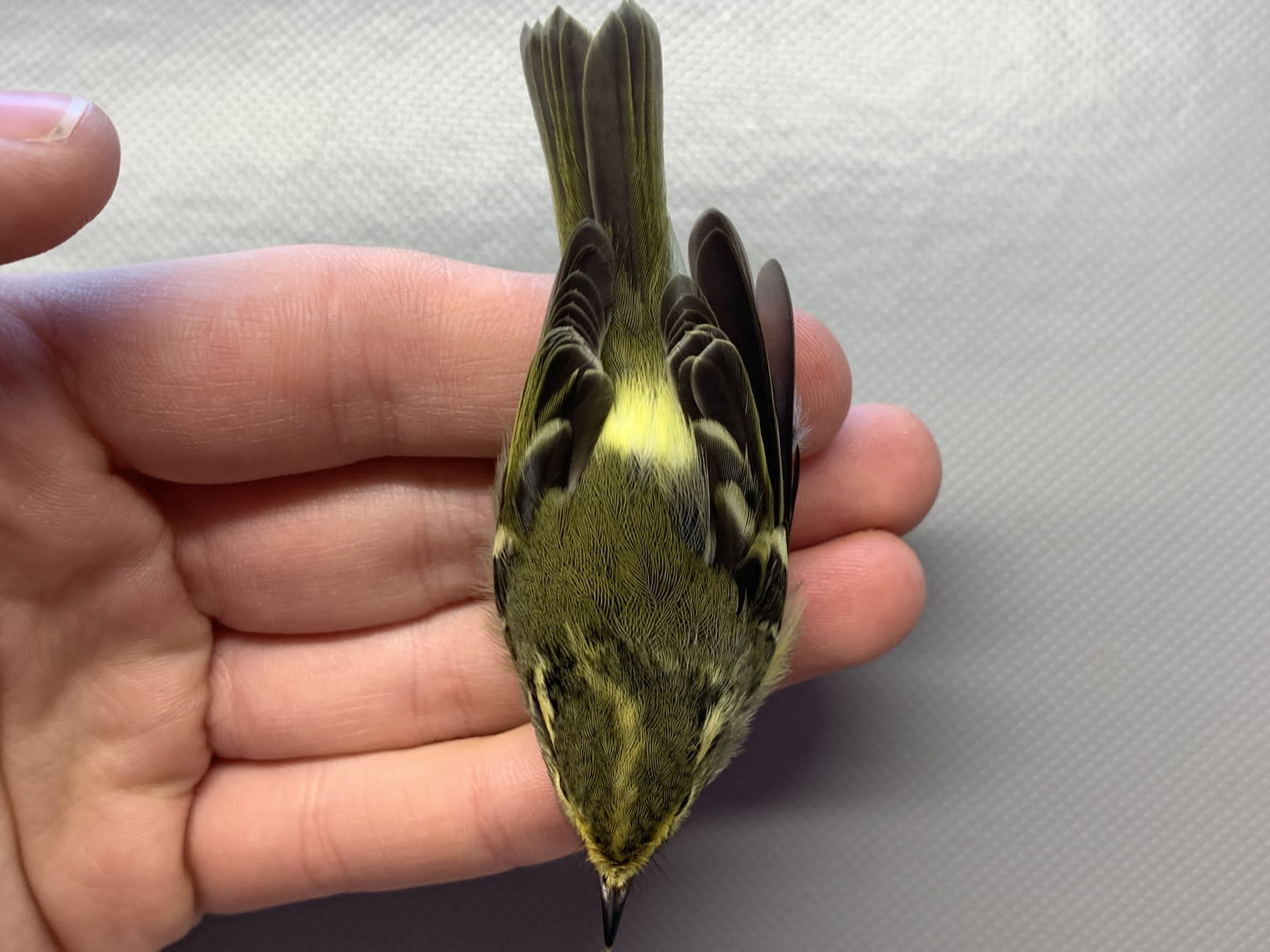 Todays ringed birds:
Pallas´s Leaf Warbler: 1
Goldcrest: 1
Wren: 5
Robin: 2 (1 Recapture)
Blackcap: 1
Bullfinch: 1
Great Tit: 1
Redwing: 6
Blackbird: 9
Total: 27
At noon, Jonas, Sebastian and Rasmus celebrated this highlight with Nuggesta. I preferred a pita bread with vegetables and egg.
After a break, we went to the Bog in the afternoon.
That wasn't bad either, because we spotted a Lesser Whitethroat and a Hen Herrier. And the weather was good again today, a beautiful, golden October day. After our walk, it was time for Rasmus to pack up and head back home.
Sebastian, Jonas and I bravely hold the fort. Tomorrow we will also have mainly southerly winds, hopefully they will bring us more surprises. Keep your fingers crossed for us!
People at the station: Bent Jakobsen, Sebastian Thorup Hansen, Jonas Pedersen, Hanelie Sidhu og Rasmus Momme